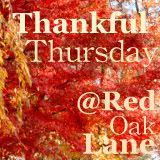 This has been a tough week. Nothing anyone can help us with although I am deeply thankful for the many offers from friends and family. DH had some very rough days. DS was incredibly sneaky and devious. I discovered the garage door we asked my FIL to repair hadn't been repaired. I have to admit discovering the garage door hadn't really been fixed almost broke me. But I did stop a few times this week to write in my thankful journal:
I am thankful my family came to our house last Saturday to celebrate birthdays and I'm thankful DH was able to enjoy the celebration in his own home. I am thankful my kids were able to spend that entire day with cousins and family. I am thankful for the huge roasts I slow-cooked last weekend and how we were able to live off those all week. It was lovely having a lighter cooking load while still feeding my family healthy, homemade food. My birthday was a rough day, but one bright spot was the Powells gift card from my church. I went online ordered books, got free shipping, and all those lovely books arrived this week. I am thankful for that whole experience.
Last night I sat in our library for two and a half hours reading. I did not take any serious reading or homeschool related books. I took a Nora Roberts book I've read before and my iPod and just sat and read and no one talked to me for two and a half hours. I am thankful for the gas and grocery cards our church sent us. Those led to a lot of peace for DH because we have a large chunk of money sitting in our bank account waiting for the medical bills we know are coming. I am so thankful for God's provision.
During this past week, DH has lost 5lbs. This is HUGE because it means he's lost 5lbs of fluid from his abdomen. Yesterday his daily nausea was less. He didn't wear his Sea-Bands at all. He also felt well enough to sit up at the computer and pay bills. Last night he fell asleep quicker and easier than he has in weeks. I am so thankful for these changes and pray they continue.